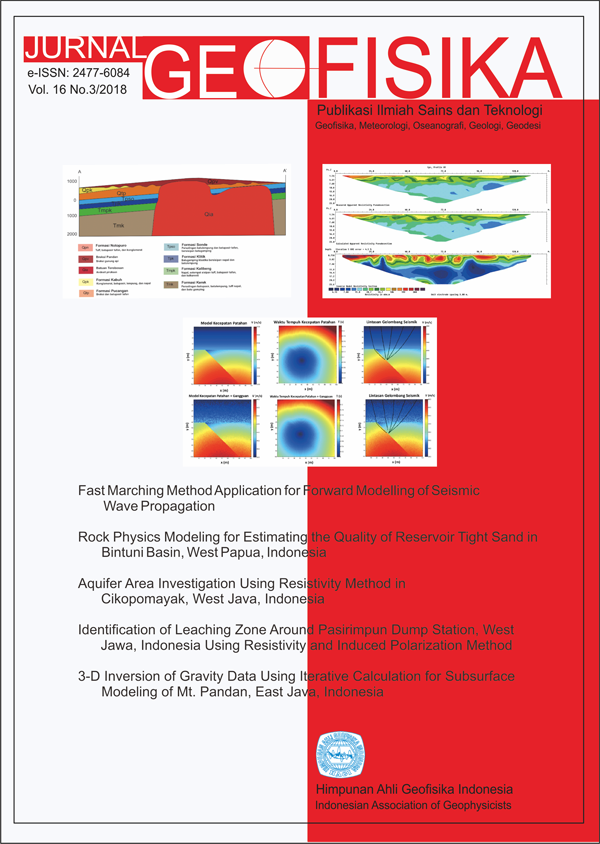 Para pembaca yang terhormat,
Tim editor Jurnal Geofisika (JGF) mamanjatkan puji dan syukur pada Tuhan Yang Maha Kuasa atas terbitnya JGF Vol. 16 No.3 Tahun 2018. Pada edisi kali ini, JGF menyajikan makalah-makalah ilmiah yang telah melewati proses penilaian dan pengeditan sehingga terpilih lima makalah dengan bidang kajian dan  metodologi yang beragam. Lima makalah yang dimuat menampilkan kajian yang menarik untuk dibaca dan dicermati.
Kelima makalah tersebut adalah :
Fast Marching Method Aplication for Forward Modelling of Seismic Wave Propagation yang ditulis oleh Wahyu Srigutomo dan G.H. Muslim
Rock Physics Modelling for Estimating the Quality of Tight Sand Reservoir in Bintuni Basin, West Papua, Indonesia yang ditulis oleh D. S. Ambarsari, dan Sonny Winardhi
Aquifer Area Investigation Using Resistivity Method in Cikopomayak, West Java, Indonesia yang ditulis oleh J.W. Sihotang, D.B.T. Munte, R. Osvaldus, N. Priono dan F. Mohamad
Identication of Leaching Zone Around Pasirimpun Dump Station, West Java, Indonesia Using Resistivity and Induced Polarization Method yang ditulis oleh A.A. Nugraha, A.A. Ilmanto, J. Jonathan, R.M. Rashad dan S. Maghrifa
3-D Inversion of Gravity Data Using Iterative Calculation for Subsurface Modeling of Mt. Pandan, East Java, Indonesia yang ditulis oleh W. Aji, E.J. Wahyudi, D. Santoso D. dan W.G.A. Kadir
Terakhir Tim Editor berharap kelima makalah yang dimuat pada JGF edisi kali ini dapat memperkaya khasanah keilmuan geofisika di Indonesia dan bermanfaat untuk menambah wawasan baru bagi para pembaca.
Tim Editor
Dr. Andri D. Nugraha
Dr. David P. Sahara
Dr. Zulfakriza