JURNAL GEOFISIKA
Welcome to the online submission and editorial system for the Jurnal Geofisika. Jurnal Geofisika [e-ISSN : 2477-6084] is a scientific journal published by Himpunan Ahli Geofisika Indonesia (HAGI). This journal is referenced, each paper was assessed and evaluated by editors and reviewers who are experts in the relevant fields and come from education institutions and industry, both from within and outside the country. The published article covers all science and technology including Geophysics, Meteorology, Oceanography, Geology and Geodesy.
Important Announcement
Jurnal Geofisika is moving to an enhanced online submission and peer review system named Open Journal System (OJS). From Tuesday, March 7, 2017 NEW submissions must be uploaded to our new online system, OJS.
To submit a NEW paper, please register/log in and follow the instructions to register and submit your paper there. Please contact support with any queries.
This journal is concerned with original research, new developments, site measurements and case studies in pure and applied geophysics. It provides a national and international forum for the publication of high quality papers on the subject of geophysics and the application of geophysics principles and techniques at various scales from laboratory, reservoir to regional and global scale. These projects include geophysics, meteorology, oceanography, geology and geodesy. Papers are welcomed on all relevant topics and especially on theoretical developments, analytical methods, numerical methods, rock testing, site investigation, design, back analysis, and case studies.
Current Issue
Vol 20 No 2 (2022): Jurnal Geofisika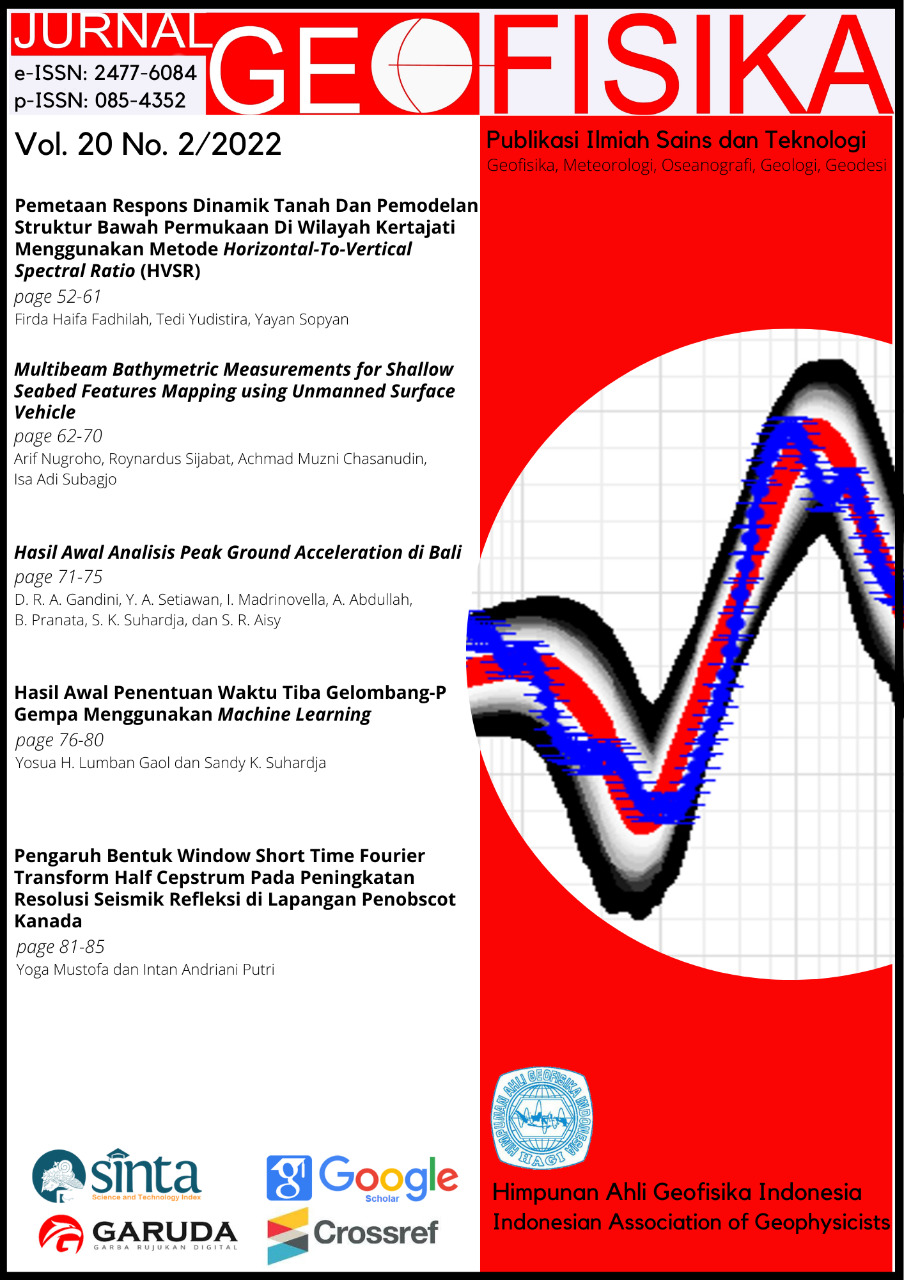 Pemetaan Respons Dinamik Tanah Dan Pemodelan Struktur Bawah Permukaan Di Wilayah Kertajati Menggunakan Metode Horizontal-To-Vertical Spectral Ratio (HVSR)  [Firda Haifa Fadhilah, Tedi Yudistira, Yayan Sopyan]
Multibeam Bathymetric Measurements for Shallow Seabed Features Mapping using Unmanned Surface Vehicle [Arif Nugroho,  Roynardus Sijabat, Achmad Muzni Chasanudin, Isa Adi Subagjo]
Hasil Awal Analisis Peak Ground Acceleration di Bali [D. R. A. Gandini, Y. A. Setiawan, I. Madrinovella,  A. Abdullah, B. Pranata, S. K. Suhardja, S.R Aisy]
Hasil Awal Penentuan Waktu Tiba Gelombang-P Gempa Menggunakan Machine Learning [Yosua H. Lumban Gaol, Sandy K. Suhardja]
Pengaruh Bentuk Window Short Time Fourier Transform Half Cepstrum Pada Peningkatan Resolusi Seismik Refleksi di Lapangan Penobscot Kanada [Yoga Mustofa, Intan Andriani Putri]
View All Issues