Peningkatan Akurasi Lokasi Gempa Mikro Dengan Menggunakan Metoda Double-Difference Dan Korelasi Silang Master Waveform
Arifa Hijriani

Institut Teknologi Bandung (ITB)

David P. Sahara

Institut Teknologi Bandung (ITB)

Andri D. Nugraha

Institut Teknologi Bandung (ITB)

Irvan Ramadhan

PT. Supreme Energy

R. P. Sidik

PT. Supreme Energy
Keywords
Mikroseismik, Korelasi Silang Waveform, Eksplorasi Geothermal, Double-Difference
Abstract
Perekaman gempa mikro menjadi suatu metode yang umum dilakukan untuk memperkirakan struktur geologi pada suatu lapangan panas bumi. Data hasil perekaman gempa mikro di Lapangan Panas Bumi ARD, sebelum proses pemboran eksplorasi, diolah dan dianalisis dalam penelitian ini dengan tujuan untuk memetakan struktur bawah permukaan. Jaringan seismik pada Lapangan Panas Bumi ARD terdiri dari 26 stasiun yang dipasang selama 8 bulan sejak Agustus 2011 dalam radius 20 km dari target reservoir. Terdapat 637 gempa mikro lokal yang berhasil terdeteksi dan terpetakan selama pengukuran berlangsung. Jumlah ini relatif besar untuk sebuah daerah yang masih dalam tahap awal eksplorasi panas bumi. Akan tetapi, akurasi penentuan lokasi hiposenter gempa mikro perlu ditingkatkan mengingat keberadaan kesalahan penentuan waktu tiba dan model kecepatan. Studi ini bertujuan untuk meminimalkan kesalahan akibat dua parameter tersebut dengan menggunakan metode korelasi silang dan double dierence. Korelasi silang waveform dengan master event diterapkan untuk meningkatkan kualitas penentuan waktu tiba. Terdapat 559 dan 527 pasangan waveform yang memiliki korelasi diatas 0.76. Gempa-gempa mikro yang muncul diinterpretasikan berasal dari bidang patahan yang sama. Koreksi waktu tiba rata-rata yang dihasilkan adalah sebesar 0.2 detik. Setelah dilakukan relokasi dengan metode double dierence, lokasi gempa bergeser sekitar 200 hingga 1500 m dan dihasilkan cluster gempa mikro yang lebih tajam. Kluster gempa mikro tersebut bersesuaian dengan struktur berarah Timur laut - Barat daya di lapangan ARD. Residual travel time gempa mikro juga menunjukkan penurunan yang signikan. Dari hasil penelitian dapat disimpulkan bahwa relokasi hiposenter dengan metode korelasi silang master event dan double difference berhasil mereduksi ketidakpastian lokasi hiposenter di lapangan ARD.
References
Amin, T.C., Rustandi, E., Gafoer, S. Peta Geologi Lembar Manna dan Enggano, Sumatera.1993. Pusat Penelitian dan Pengembangan Geologi.
Bacquet, A., Putra, A. P., Bjornsson, G., Arnaldsson, A. Inverse Numerical Modelling of Rantau Dedap Geothermal Field after Six Exploration Wells. 2016. Proceeding 41th Workshop on Geothermal Reservoir Engineering. Standford Univerity.
Douglas, A., D. Browers, J. B. Young. On the onset of P seismograms. 1997. Geophysics Journal International 129 pp 681-690.
Havskov, J. dan Ottemoller, L. Routine Data Processing in Earthquake Seismology. 2010. Springer.
IESE. Supreme Energy Internal Report. 2015. Supreme Energy
Mori, J. Determination of Dip Direction for the 2007 Chuetsu-oki Earthquake From Relocation of Aftershocks
Using Arrival Times Determined by Cross-Correlation. 2008. Earth, Planet, Space, 60, 1117-1120.
Ramadhan, I.,. Exploration Uncertainties in GSF: MT Case Study. 2015. Indonesian Conference on Geothermal
Mineralogy and Volcanology.
Thurber, C., Ritsema, J. Theory and Observations Seismic Tomography and Inverse Method. 2007. Elsevier.
Waldhauser, F., Ellsworth. A Double-Dierence Earthquake Location Algorithm: Method and Application to the
Northern Hayward Fault, California. 2000. Bulletin of the Seismological Society of America, 90, 6, pp.1353-1368
Zhang, H., Thurber, C. H. Double Dierence Tomography: The Method and Its Application to the Hayward Fault,
California. 2003. Bulletin of the Seismological Society of America, 93, 5, pp.1875-1889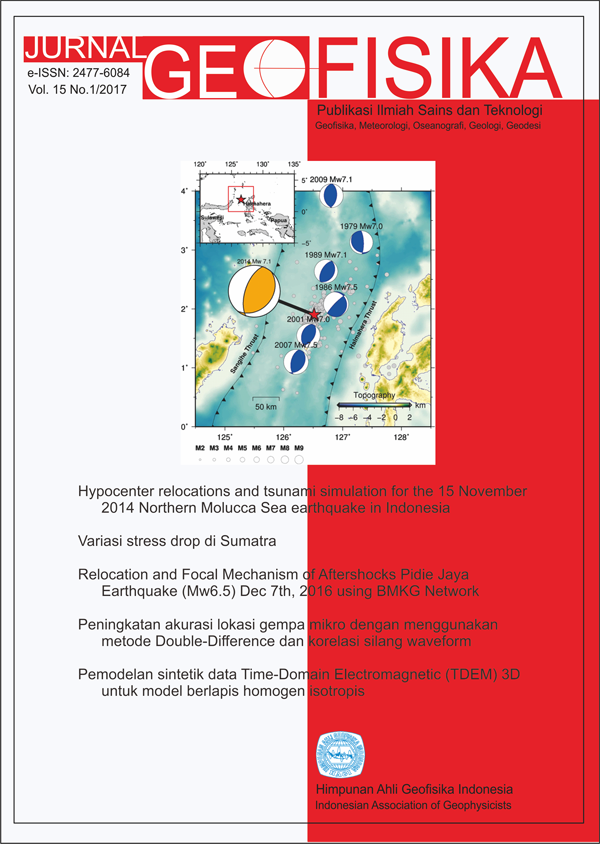 This work is licensed under a Creative Commons Attribution 4.0 International License.
The copyright of all articles belongs to the authors. All other copyrights is held by the Journal