Pengaruh Bentuk Window Short Time Fourier Transform Half Cepstrum pada Peningkatan Resolusi Seismik Refleksi di Lapangan Penobscot Kanada
Yoga Mustofa

Institut Teknologi Sumatera

Intan Andriani Putri

Institut Teknologi Sumatera
Keywords
Resolusi, STFTHC, Gaussian window, Hamming window, lapisan tipis
Abstract
Batuan karbonat dapat menjadi alternatif dalam pencarian cadangan hidrokarbon pada industri minyak dan gas bumi. Sebagian besar produksi hidrokarbon di Indonesia dan bahkan dunia berasal dari reservoir karbonat. Data seismik konvensional memiliki lebar frekuensi yang terbatas, sehingga tidak dapat menggambarkan lapisan-lapisan tipis di bawah tuning thickness. Maka dari itu perlu untuk meningkatkan resolusi seismik dengan ketebalan lapisan di bawah tuning thickness. Penelitian ini dilakukan pada Lapangan 3D Penobscot Formasi Baccaro dengan litologi karbonat, Nova Scotia, dengan menggunakan algoritma Short Time Fourier Transform Half Cepstrum (STFTHC) untuk mempelajari pengaruh bentuk window terhadap performa algoritma STFTHC dalam memperlebar bandwidth frekuensi. Metode ini menggunakan dua buah jenis window yaitu Gaussian window, dan Hamming window. Parameter window yang digunakan yaitu lebar window 32, hop=8, dan α=8 pada Gaussian window. Pengaplikasian algoritma STFTHC dilakukan pada data sintetik seismik 1D, 2D dan data seismik 3D penobscot. Hasil penerapan Gaussian window pada data sintetik 1D, 2D dan 3D dapat memisahkan lapisan dan memperlebar bandwidth dengan sedikit efek side lobe, sedangkan hasil penerapan Hamming window masih terdapat side lobe. Hasil nilai tuning thickness sebelum dilakukan proses STFTHC bernilai 27,88 m, setelah STFTHC menggunakan Gaussian window menjadi 16,40 m dan ketika menggunakan Hamming window menjadi 18,84 m.
References
Bogert, B.P., Healy, M.J.R. dan Tukey, J.W. (1963): The quefrency alanysis of time series for echoes; cepstrum pseudo-autocovariance, cross-cepstrum and saphe cracking. Time series analysis, 209–243.
Campbell, T.J., Richards, F.B., Silva, R.L., Wach, G. dan Eliuk, L. (2015): Interpretation of the penobscot 3d seismic volume using constrained sparse spike inversion, sable sub-basin, offshore nova scotia. Marine and Petroleum
Geology, 68, 73–93, doi:10.1016/j.marpetgeo.2015.08.009.
Kartika, F. (2013): Karakterisasi reservoar" febri-unila field" menggunakan metode acoustic impedance (ai) inversion. JGE (Jurnal Geofisika Eksplorasi), 1(01), 48–56.
Kidston, A.G., Brown, D.E., Smith, B. dan Altheim, B.
(2005): The upper jurassic abenaki formation offshore nova scotia: a seismic and geologic perspective. Offshore
(Conroe, TX), 1.
Praseti, I.P. (2016): Peningkatan resolusi data seismik menggunakan atribut dekomposisi spektral pada lapangan eksplorasi canada.
Sajid, M., Ghosh, D. dan Zahir, Z. (2013): Novel method to improve seismic resolution through stfthc algorithm.Petroleum Geoscience Conference & Exhibition 2013, European Association of Geoscientists & Engineers, cp–340
Stockwell, R. (2007): Why use the s-transform. Pseudo-differential operators: partial differential equations and time-frequency analysis, 52, 279–309, doi:10.1090/fic/052/12.
Suharyati, Pambudi, S.H., Wibowo, J.L. dan Pratiwi, N.I. (2019): Indonesia energy outlook 2019. Jakarta: DENSecretariat General National Energy Council.
Winardhi, S. dan Pranowo, W. (2019): Multi-ricker spectral modeling in the s-transform domain for enhancing
vertical resolution of seismic reflection data. Indonesian Journal on Geoscience, 6(3), 223–233.
Young, R.A. (2004): A lab manual of seismic reflection processing. EAGE publications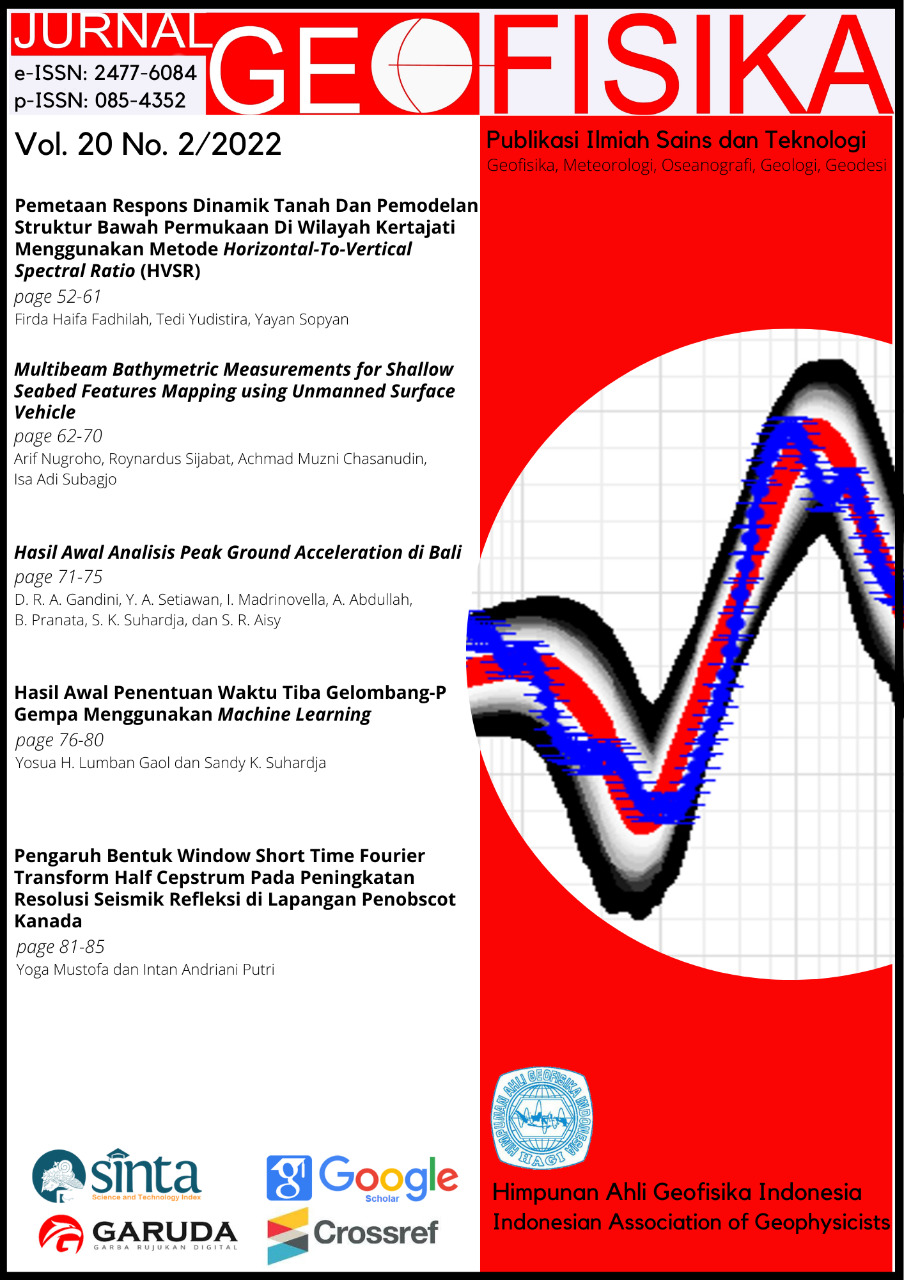 This work is licensed under a Creative Commons Attribution 4.0 International License.
The copyright of all articles belongs to the authors. All other copyrights is held by the Journal