Analisis Parameter Elastisitas Untuk Interpretasi Litologi Dan Fluida Pori Reservoir Batupasir Formasi Intra Gumai Cekungan Sumatera Selatan
Eliza Veronica Zanetta

Institut Teknologi Sumatera

Handoyo Handoyo

Fatkhan Fatkhan

Teknik Geofisika, Intitut Teknologi Bandung, Jawa Barat, Indonesia

Agus Laesanpura, M.S

handoyo.geoph@tg.itera.ac.id

Harnanti Yogaputri Hutami

Teknik Geofisika, Institut Teknologi Sumatera, Lampung, Indonesia
Keywords
Parameter lame, LMR, Formasi Intra Gumai
Abstract
Modulus elastisitas merupakan salah satu parameter yang digunakan untuk identifikasi perbedaan litologi dan fluida pori dalam analisis reservoir batupasir tipis Formasi Intra Gumai di Cekungan Sumatera Selatan. Adapun parameter yang digunakan pada penelitian ini adalah Parameter lame (LMR), Poisson's ratio dan   . Parameter lame adalah parameter elastisitas yang menggunakan Vp dan Vs untuk diturunkan menjadi parameter LambdaRho dan MuRho. LambdaRho sensitif terhadap fluida sedangkan MuRho sensitif terhadap litologi. Poisson's ratio merupakan pengukuran  yang merepresentasikan sifat fisis batuan atau rasio dari strain transversal terhadap strain longitudinal. Teknik analisis ini akan dilakukan pada sumur EL-01. Hasil interpretasi log gamma ray, dan crossplot parameter lame pada kedalaman 1090-1120 m merepresentasikan litologi zona target sandstone. Crossplot antara Poisson's ratio dan  menunjukkan keterdapatan oil sand pada kedalaman 1100-1120 m dengan gas-sand memiliki nilai Poisson's ratio paling rendah yaitu 0-0,21, oil sand memiliki Poisson's ratio 0,21-0,34, Poisson's ratio brine sand 0,34-0,39, Poisson's ratio shale 0,39-0,45 dan Poisson's ratio tertinggi yaitu unconsolidated shallow sediment. Sifat petrofisika yang digunakan pada penelitian ini yaitu porositas, densitas,  dan . Kombinasi antara sifat petrofisika batuan dan parameter lame dapat menjadi metode optimal untuk memisahkan litologi dan kandungan fluida di dalam batuan reservoir.
References
Fei, W., Huiyuan, B., Jun, Y. dan Yonghao, Z. (2016): Correlation of dynamic and static elastic parameters of rock.
Electronic Journal of Geotechnical Engineering, 21(04), 1551–1560.
Goodway, B., Chen, T. dan Downton, J. (1997): Improved avo fluid detection and lithology discrimination using
lam´e petrophysical parameters;"λρ","µρ", & "λ/µ fluid stack", from p and s inversions. In: SEG technical program expanded abstracts 1997. Society of Exploration Geophysicists, 183–186.
Handoyo, Fatkhan, Hutami, H.Y. dan Sudarsana, R. (2019): Rock physics model to determine the geophysical pore-type characterization and geological implication in carbonate reservoir rock. IOP Conference Series: Earth and Environmental Science, 311(1), 012031, doi:10.1088/1755-1315/311/1/012031.
Kumar, D. (2006): A tutorial on gassmann fluid substitution: Formulation, algorithm and matlab code. matrix,
2(1).
Lee, M.W. (2005): Proposed moduli of dry rock and their application to predicting elastic velocities of sandstones.
US Department of the Interior, US Geological Survey.
Li, M. dkk. (2019): New play discoveries in the south sumatra basin, indonesia-exploration case study in cnpc jabung block. IOP Conference Series: Earth and Environmental Science, IOP Publishing, vol. 360, 012–021.
Mavko, G., Mukerji, T. dan Dvorkin, J. (2009): The Rock Physics Handbook. Cambridge university press.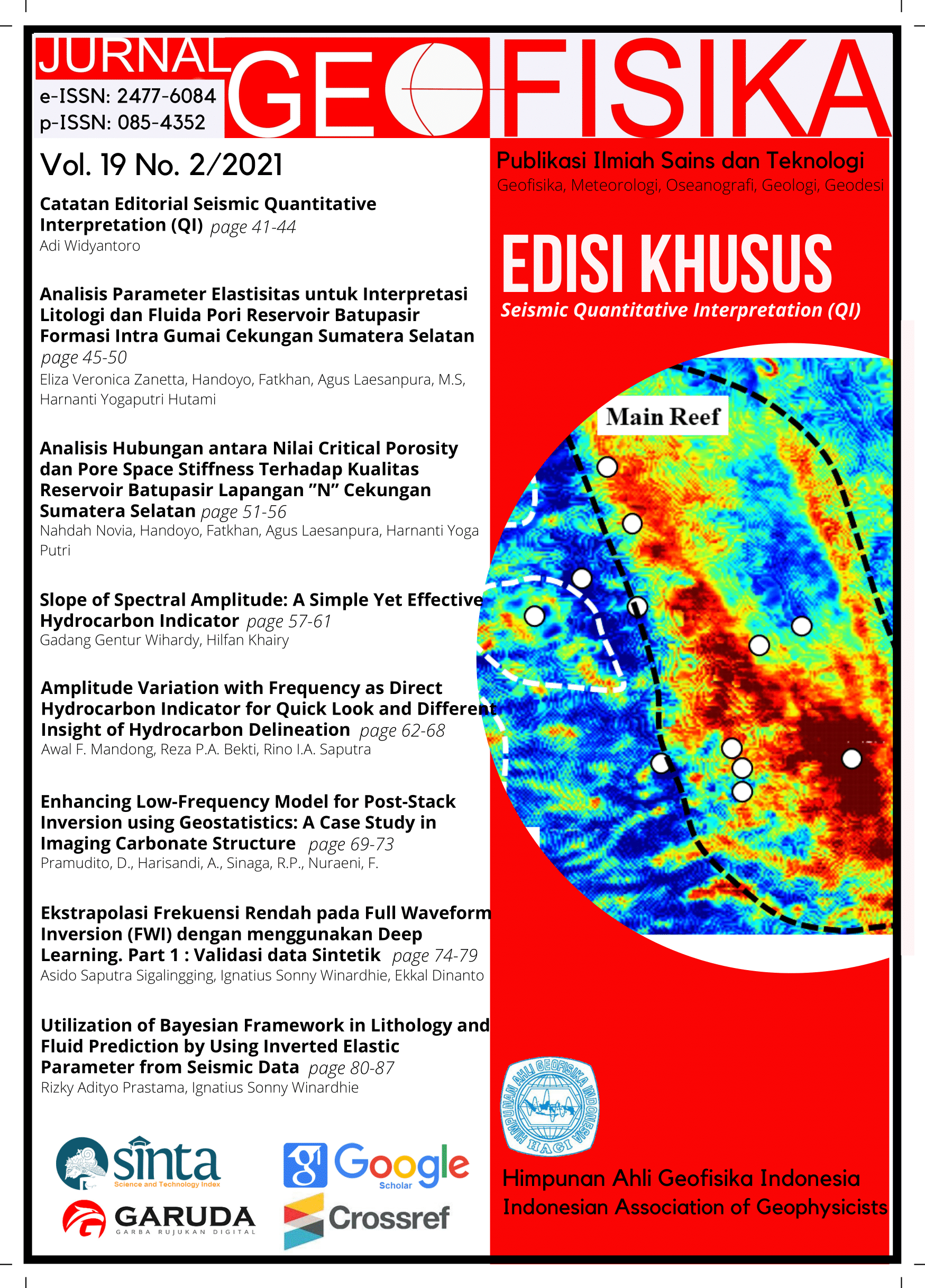 This work is licensed under a Creative Commons Attribution 4.0 International License.
The copyright of all articles belongs to the authors. All other copyrights is held by the Journal