Identifikasi Struktur Tektonik Di Laut Pidie Aceh Dengan Survey Geo-Marine
mahmud yusuf

bmkg

Muhammad Hasan

Pusat Penelitian Oceanografi –LIPI, Jl.Pasir Putih I Ancol Timur, Jakarta 14430

M Taufik Gunawan

Pusat Database - BMKG, Jl.Angkasa 1 No.2 Kemayoran Jakarta, 10610

Hidayanti Hidayanti

Pusat Gempabumi dan Tsunami, Jl.Angkasa 1 No.2 Kemayoran Jakarta, 10610

Siswanto Siswanto

Pusat Meteorologi Maritim, Jl.Angkasa 1 No.2 Kemayoran Jakarta, 10610
Keywords
Sub Bottom Profiler, Gravity Modelling, Laut Pidie
Abstract
Tim peneliti yang tergabung dalam Cruise Indonesia PRIMA 2017 telah melakukan penelitian di perairan selat Malaka dengan menggunakan kapal riset Baruna Jaya. Penelitian ini bertujuan mengamati struktur tektonik di selat Malaka di sebelah utara kabupaten Pidie. Metode yang digunakan dalam penelitian ini meliputi pengamatan topographi dasar laut dengan alat Single beam echosounder, kondisi geologi dasar laut dengan alat Sub bottom profiler (SBP), ditambah dengan pemodelan anomali gayaberat dari data satellite . Dari penelitian ini diperoleh hasil kondisi kemiringan lereng perairan daerah penelitian setidaknya memiliki empat kemiringan yang berbeda yaitu relatife datar, agak curam, miring, dan sedikit miring. Sedangkan kondisi geologi diketahui dasar laut terdapat batuan yang keras dan sedimen yang tebal mencapai 30 meter, dan di daerah ini ditemukan juga struktur geologi berupa patahan turun. Dari hasil pemodelan gayaberat juga diperoleh informasi adanya patahan turun.
References
D.H, Natawidjaja, K. Sieh, ,S.N Ward, , H. Cheng, R.L. Edwards, Galetzka, J.Suwargadi, ,"Paleogeodetic records of seismic and aseismic subduction from central Sumatran microatolls". Indonesia. J. Geophys. Res. 109, B04306. 2004.
D.T. Sandwell, and W. H. F. Smith, "Global marine gravity from retracked Geosat and ERS-1 altimetry: Ridge segmentation versus spreading rate": Journal of Geophysical Research, 114, no. B1, B01411, B01411, http://dx.doi.org/10.1029/2008JB006008, 2009
E.J.W. Jones, "The Marine Gravity Field", Marine Geophysic QE501.J585, 1999
I.N. Tziavos, R. Forsberg, M.G. Sideris,"Marine Gravity Field Recovery by Combining Satellite Altimetry and Shipborne Gravmetry", Bollettino Di Geofisica Teorica Ed Applicata Vol.40 No.3-4 pp 219-226, 1999
J.F. Genrich, Y.Bock, R. McCaffrey, L.Prawirodirdjo, C.W. Stevens, S.S.O. Puntodewo, C.Subarya, S. Wdowinski. "Distribution of The Northern Sumatran Fault System", Journal of Geophysical Research Vol.105 No.B12. P 28,327-28,341.2000.
J.R. Curray, "Tectonic and history of the Andaman Sea region", Journal of Asian Earth Sciences, 25, pp 187-232, 2005.
M.Sarkowi, " Identifikasi Struktur Daerah Panas Bumi Ulubelu Berdasarkan Analisa Data SVD Anomali Bouguer", J Sains MIPA Vol.16 No.2 pp 111-118, 2010
M.K. Lee, T.C. Rharoah, and N.J.Soper, "Structural Trends in Central Britain from Images of Gravity and Aero-magnetic data", Journal of Geological Society, 147 241-258, 1990.
R. Mc Caffrey, Y.Bock and J.Rais, " Crustal Deformation and Oblique Plate Convergence in Sumatra", Eos Trans, AGU, 71,637, 1990
R.A.Van Zuidam, Guide to Geomorphological Aeral Photographic Interpretation an Mapping, ITC, Enschede, The Nederlands.1983
W.Keats, et.all, "The Geology of Lhokseumawe Quadrangle report". Geol. Res, and Dev Cent. Bandung, 1981.
Y.Bock, "Medium Distance GPS Measurement". In GPS for Geodesy Lect Notes Earth, Sci, Vol 60 2nd edited by P.J.G, Tenissena and Kleusberg pp. 483-536, Springer –Verlag, New York, 1998.
Y.N. Lin, K.Sieh, J.Stock, " Submarine Landslides Along The Malacca Strait Mergui-Basin Shelf Margin : Insigths From Sequence Statigraphic Analysis", Journal of Geophysical Research Vol.115 B12102, 2010
Y.Li, and D.W. Oldenburg, "3D Inversion of Gravity data": Geophysic 63. No.1 109-119, 1998.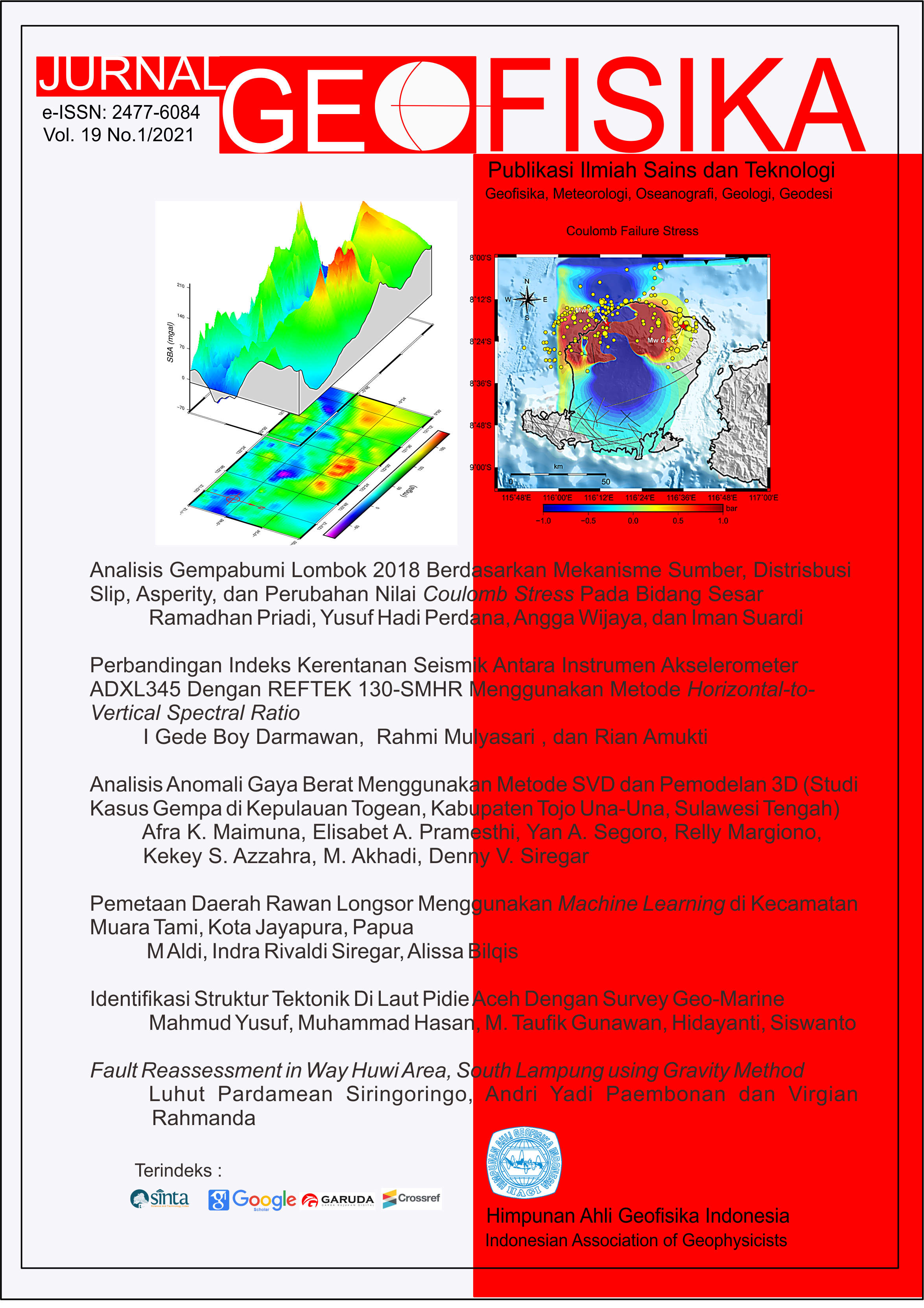 This work is licensed under a Creative Commons Attribution 4.0 International License.
The copyright of all articles belongs to the authors. All other copyrights is held by the Journal