Analisis Anomali Gaya Berat Menggunakan Metode SVD dan Pemodelan 3D (Studi Kasus Gempa di Kepulauan Togean, Kabupaten Tojo Una-Una, Sulawesi Tengah)
-
Afra Kansa Maimuna

STMKG

Elisabet A Pramesthi

Sekolah Tinggi Meteorologi Klimatologi dan Geofisika

Yan A Segoro

Sekolah Tinggi Meteorologi Klimatologi dan Geofisika

Relly Margiono

Sekolah Tinggi Meteorologi Klimatologi dan Geofisika

Kekey S Azzahra

Stasiun Geofisika Kelas I Bandung

M Akhadi

Pusat Gempa Bumi dan Tsunami BMKG

Denny V Siregar

Stasiun Geofisika Kelas III Mataram
Keywords
Keywords: Gravity Anomaly, SVD (Second Vertical Derivative ), Grav3D, Faults.
Abstract
Abstrak
Metode gaya berat adalah salah satu metode geofisika yang didasarkan pada pengukuran medan gravitasi. Metode ini dapat diaplikasikan untuk memetakan daerah yang mengalami deformasi struktural berupa sesar terutama pada kejadian gempabumi. Berdasarkan gempabumi  yang terjadi di Kabupaten Tojo Una-Una Sulawesi Tengah pada periode 9 Oktober 2020 sampai dengan 15 Oktober 2020 yang bersumber di dasar laut, penulis tertarik untuk mengetahui kemungkinan adanya keberadaan sesar bawah laut dikarenakan belum terpetakannya sesar di wilayah tersebut. Data yang digunakan dalam penelitian ini adalah  data gravitasi hasil observasi satelit TOPEX dengan koordinat 0,25 o  LU – 1,15o LS dan 121,46 o BT – 123,30 o BT. Metode yang digunakan adalah metode Second Vertical Derivative (SVD) dan pemodelan 3D  menggunakan software Grav3D. Hasil  analisis kurva anomali SVD terdapat kontras nilai densitas yang mengindikasikan adanya dugaan keberadaan sesar. Dugaan sesar ini memanjang dengan orientasi barat - timur.  Hasil pemodelan 3D hingga kedalaman 24 km menunjukkan adanya anomali gaya berat yang cenderung positif dengan nilai kontras densitas di bawah permukaan berkisar antara - 0,8 gr/cm3 sampai 1,1 gr/cm3.
Kata kunci: Anomali Gaya Berat, SVD (Second Vertical Derivative),  Pemodelan 3D, Sesar.
Abstract
The gravity method is a geophysical method based on the measurement of the gravitational field. This method can be applied to map areas that experience structural deformation in the form of faults. Based on the earthquakes that occurred in Tojo Una-Una Regency, Central Sulawesi from 9 October 2020 - 15 October 2020 that originated on the seabed, we have an intention to find a possibility of fault as no-fault has been mapped in this area. The data used in this study is the gravitational data from the TOPEX satellite observations with coordinates 0,2 o N – 1,15 o S and 121,4 o E – 123,3 o E. The method used is the second vertical derivative (SVD) and 3D modeling using the Grav3D software. The results of the SVD show a contrast density value that indicates the possibility of a fault. This fault extends in a west-east orientation. The results of 3D modeling up to a depth of 24 km show a gravity anomaly that tends to be positive with the value of the distribution density under the surface ranging between -0,8 gr / cm3 to 1,1 gr / cm3.
Keywords: Gravity Anomaly,  SVD (Second Vertical Derivative ),  Grav3D, Faults.
References
https://id.wikipedia.org/wiki/Lempeng_Indo-Australia
Diakses tanggal 30 Januari 2021 pukul : 17.30 WIB
Akhadi,Muhammad. 2020. Skripsi Metode Fhd Dan Svd Untuk Identifikasi Sesar Sumatera Bagian Utara Dan Pemodelan 3d Struktur Bawah Permukaan Wilayah Pidie Jaya, Aceh Menggunakan Data Ggmplus. STMKG
Azzahra, Kekey Salsabil. 2020. Skripsi Identifikasi Struktur Bawah Permukaan Di Wilayah Bogor, Bekasi Dan Banjarnegara Menggunakan Metode Turunan Pertama Horizontal Dan Turunan Kedua Vertikal Data Gravitasi Ggmplus. STMKG
Firdaus, M. Wildan, Agus Setyawan dan Mahmud Yusuf 2019 Identifikasi Letak Dan
Jenis Sesar Berdasarkan Metode Gayaberat Second Vertical Gradient Studi Kasus Sesar Lembang, Kota Bandung, Jawa Barat. Youngster Physics Journal ISSN : 2302 – 7371. 5, No. 1, Januari 2016, Hal 21-26 https://ejournal3.undip.ac.id/index.php/bfd/article/view/10629

Free Air Anomaly and Thopography Data. http://topex.ucsd.edu/cgibin/getdata.cgi. Diakses tanggal 7 Januari 2021 pukul : 20.30 WIB
Jamidun, M.Rusydi, Kirbani SB., Subagio P.3Wiwit Suryanto 2014 Analisis dan
Model Inversi Gaya Berat 2D untuk Penampakan Sesar Palu Koro Di Sulawesi Tengah Indonesia. Journal of Science and Technology 8 No. 1 (2019) ISSN-p: 2338-0950 https://doi.org/10.22487/25411969.2019.v8.i1.12644
Kadir, W.G.A. (2000). The 4-D gravity survey and its subsurface dynamics: a theoretical approach.Proceeding of 24th Indonesian Geophysical Society Annual Meeting94-99
Parera, A. F. T., Bunaga, I. G. K. S., & Yusuf, M. (2015). Pemodelan Tiga Dimensi Anomali Gravitasi Dan Identifikasi Sesar Lokal Dalam Pementuan Jenis Sesar Di Daerah Pacitan. Prosiding Seminar Nasional Fisika (E-Journal) SNF2015-IX. http://journal.unj.ac.id/unj/index.php/prosidingsnf/article/view/5241
Puspita Sari, Endah. (2012). Aplikasi Metode Turunan Kedua Vertikal (Second Vertical Derivative) Data Gravitasi Untuk Interpretasi Sesar Baribis Jawa Barat. Tugas Akhir Akademi Meteorologi dan Geofisika. STMKG
Sarkowi, M., (2011), Metode Eksplorasi Gaya Berat, Universitas Lampung, Bandar
lampung, Diktat Kuliah. Bandar Lampung: Universitas Lampung. doi : http://dx.doi.org/10.23960/jge.v2i01.215
Siregar, Denny Valeri, Yuan Yulizar, Anggita Adidarma 2018 Karakteristik Sesar Meratus Berdasarkan Anomali Gaya Berat Menggunakan Metode Second Vertical Derivative. STM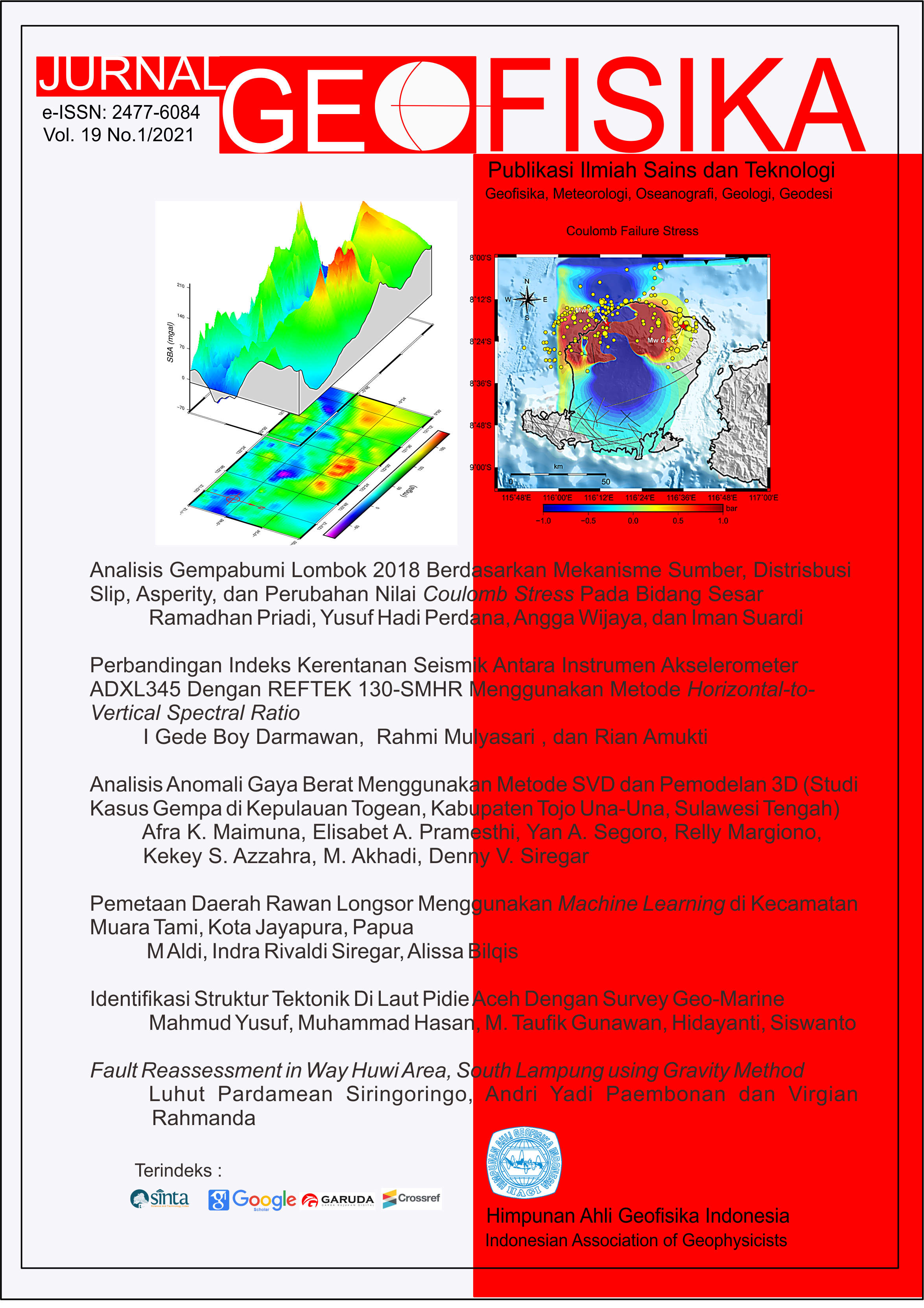 This work is licensed under a Creative Commons Attribution 4.0 International License.
The copyright of all articles belongs to the authors. All other copyrights is held by the Journal