The Application of Wave – Equation Datuming to 3D VSP Processing
Muhammad Husni Mubarak Lubis

Universitas Pertamina
Abstract
Abstrak
Vertical Seismic Profile (VSP) memperluas aplikasi seismik lubang bor dari hubungan 1D antara waktu-kecepatan hingga citra 2D atau 3D di sekitar lubang bor. Citra seismik yang dihasilkan dari VSP diharapkan memiliki resolusi vertikal yang lebih tinggi dari data seismik permukaan karena gelombang seismik direkam di dalam lubang bor. Namun, pengolahan data VSP 2D dan 3D memiliki tantangan karena sifat asimetri dari penjalaran gelombang membatasi untuk diterapkannya pengolahan data berbasis Common Mid Point (CMP) seperti analisis kecepatan, Normal Moveout (NMO), dan koreksi statik. Penelitian ini mendiskusikan sebuah pendekatan baru untuk mentransformasikan rekaman gelombang P pantul atau upgoing wavefields ke sebuah datum datar di permukaan berbasis persamaan gelombang. Transformasi tersebut menghasilkan gelombang seismik yang seolah-olah direkam pada pseudo-reveiver di permukaan bumi sehingga pendekatan penglahan data berbasis CMP dapat diterapkan. Konsep ini kemudian diterapkan pada sebuah data VSP 3D yang diakuisisi dengan geophone yang ditempatkan sangat dekat dengan permukaan. Hasil pemodelan elastik 2D menunjukkan bahwa gelombang seismik pantul sangat dipengaruhi zona kecepatan rendah di dekat permukaan. Jarak yang jauh antara reflektor target dengan geophone menghasilkan rasio sinyal terhadap bising yang rendah. Kondisi desain akuisisi ini sangat mempengaruhi hasil akhir dari citra VSP 3D. Walaupun begitu, citra VSP 3D yang dihasilkan berdasarkan hasil transformasi gelombang P upgoing ini menunjukkan korelasi yang cukup baik dengan data seismik permukaan di zona reservoir.
Kata kunci: 3D VSP, transformasi datum, persamaan gelombang, gelombang pantul, pemodelan
References
Berryhill, J.R., 1979. Wave-equation Datuming. Geophysics, 44 (August), 1329–44.
Berryhill, J.R., 1984. Datuming before Stack. Geophysics, 49 (November), 2064–66.
Carcione, J.M., Herman, G.C., and Kroode, A.P.E., 2002. Seismic Modelling. Geophysics, 67 (April), 1304–25.
Etgen, J.T., 1987. Finite – difference elastic anisotropic wave propagation. Stanford Exploration Project Report 56, 23-58.
Fuller, B., Sterling, M., and Van Dok, R., 2008. Time domain 2D VSP and 3D VSP processing. Expanded Abstracts, 2008 SEG Convention.
Yilmaz, O., 2001. Seismic Data Analysis: Processing, Inversion, and Interpretation of Seismic Data. Vol 1. Society of Exploration Geophysicists, pp. 344 – 345.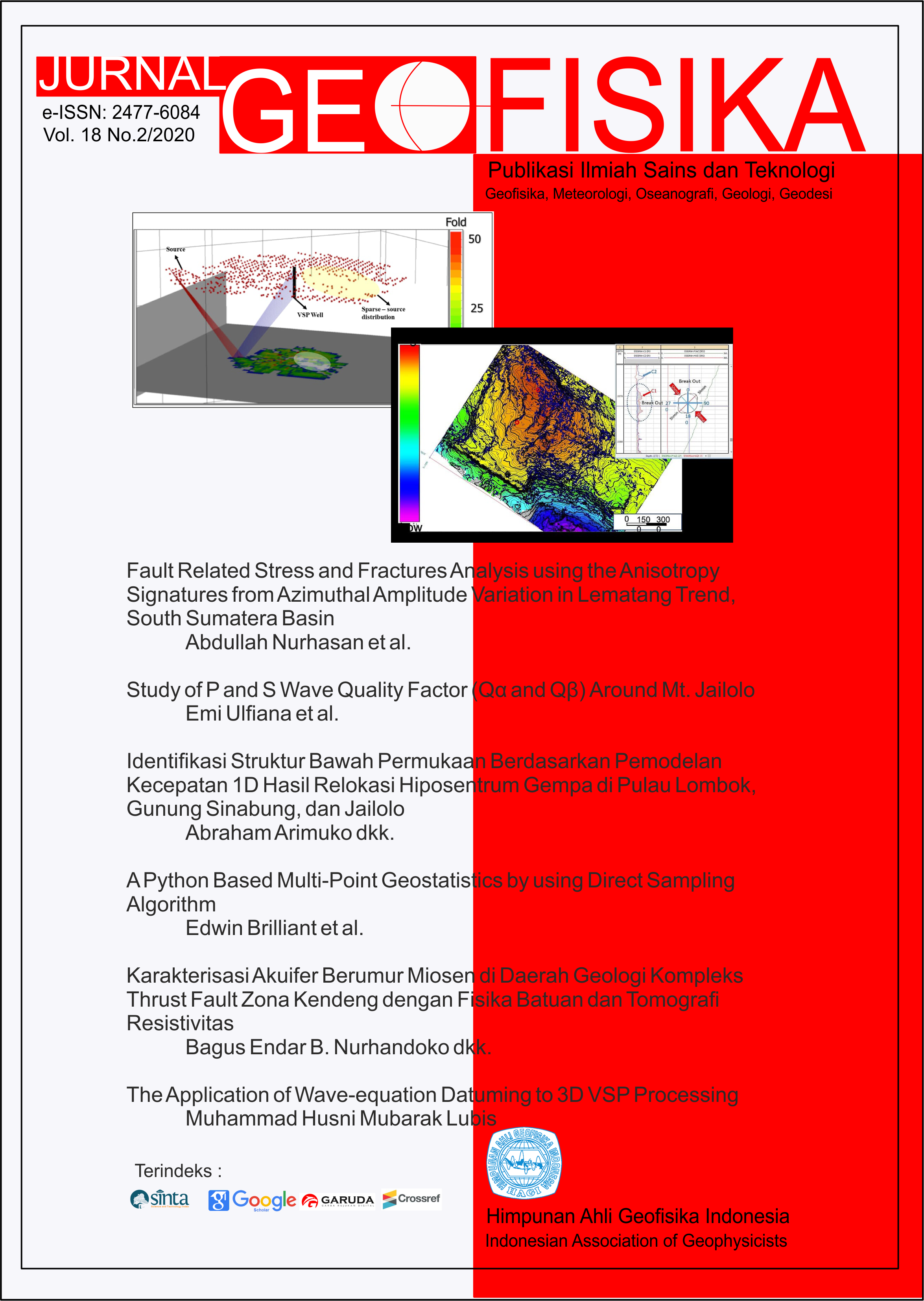 This work is licensed under a Creative Commons Attribution 4.0 International License.
The copyright of all articles belongs to the authors. All other copyrights is held by the Journal