Fault Related Stress and Fractures Analysis using the Anisotropy Signatures from Azimuthal Amplitude Variation in Lematang Trend, South Sumatera Basin
Abdullah Nurhasan

Pertamina EP

Dadang Ramdan

Pertamina EP

Zuardin Azzaino

Pertamina EP

Alexis Badai Samudra

Pertamina EP

Rino Saputra

CGG Services Indonesia
Keywords
Anisotropy, AVAz, Fracture, South Sumatera Basin
Abstract
Evaluasi reservoir terrekahkan harus didasari pengetahuan tentang arah rekah dominan dan stress horizontal yang berlaku pada area studi demi mendapatkan rekomendasi arah pengeboran yang optimal. Namun demikian, informasi tentang stress yang banyak ditemukan adalah pada skala regional, global, maupun skala sumuran. Dalam hal pemodelan pada skala reservoir, data seismic dapat dijadikan penghubung kedua skala yang berjauhan tersebut.
Kehadiran rekahan dan stress pada batuan dapat menyebabkan karakter anisotropi di reservoir. Pada skala seismic, sifat anisotropi sebuah media dapat diamati dari perubahan amplitude dan waktu tempuh terhadap azimuth rambat dan pantulan gelombang seismic. Pada makalah ini, kami menggunakan data seismic pre-stack selangkah di depan metode Amplitude Versus Offset (AVO) dan Extended Elastic Impedance (EEI) yang masih mengandalkan perubahan amplitude terhadap sudut pantul, dengan mengamati perubahan amplitude terhadap azimuth (AVAZ). Untuk pencapai tujuan tersebut, kami memproses ulang data seismic 3D dengan menggunakan metode Offset Vector Tile (OVT) sehingga informasi azimuth tersimpan dengan baik.
Informasi yang digunakan untuk menginterpretasi orientasi rewkahan dan tress horizontal maximum adalah orientasi dan magnitude anisotropi. Hasil studi ini menunjukkan rekahan dan stress yang bersifat local dapat dengan yang bersifat regional dan global. Hal ini menunjukkan bahwa arah pengeboran optimal tidak harus dikontrol oleh arah stress global.
References
Daley, P. F., & Hron, F. (1979). Reflection and transmission coefficients for seismic waves in ellipsoidally anisotropic media. Geophysics, 44, 27-38.
Ikelle, L. T. (1996). Amplitude variations with azimuths (avaz) inversion based on linearized inversion of common azimuth sections. In Seismic anisotropy (p. 601-644). SEG.
Nurhasan, A. (2017). 4d processing and time-lapse azimuthal amplitude analysis using legacy survey for
Niobrara reservoir characterization, Wattenberg field, colorado (Unpublished doctoral dissertation). Colorado School of Mines.
Pulunggono, A., Haryo, A., & Kosuma, C. G. (1992). Pretertiary and tertiary fault systems as a framework of
the south Sumatra basin: a study of sar-maps. In Proceedings indonesian petroleum association 21st annual
convention.
R¨uger, A. (1998). Variation of p-wave reflectivity with offset and azimuth in anisotropic media. Geophysics,
63, 935-947.
R¨uger, A. (2002). Reflection coefficients and azimuthal avo analysis in anisotropic media (Vol. 10). Society of
Exploration Geophysicist.
Thomsen, L. (1993). Weak anisotropic reflections. In J. P. Castagna & M. Backus (Eds.), Offset-dependent reflectivity - theory and practice of AVO analysis. Society of Exploration Geophysicist. Tingay, M., Morley, C., King, R., Hillis, R., Coblentz, D., &
Hall, R. (2010). Present Day Stress Field of Southeast Asia. Tectonophysics, 482, 92-104.
Tsvankin, I. (2012). Seismic signature and analysis of reflection data in anisotropic media. Society of Exploration Geophysicist.
Wang, N., Montagner, J.-P., Fichtner, A., & Capdeville, Y. (2013). Intrinsic versus extrinsic seismic anisotropy: The radial anisotropy in reference earth models. Geophy. Res. Lett., 40, 4284-4288.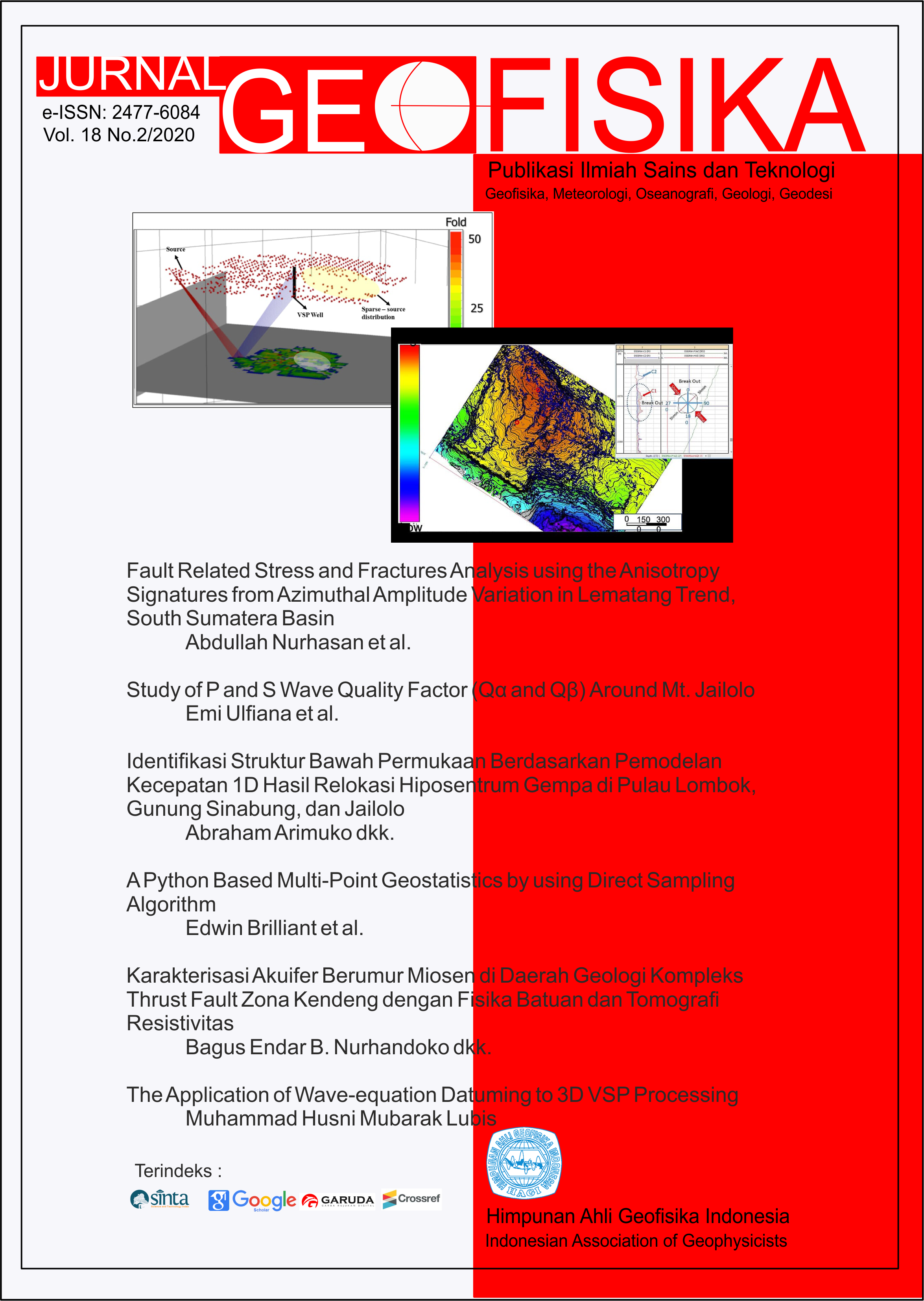 This work is licensed under a Creative Commons Attribution 4.0 International License.
The copyright of all articles belongs to the authors. All other copyrights is held by the Journal