Stress Drop Variation di Sumatra
Rahmat Setyo Yuliatmoko

Badan Meteorologi, Klimatologi, dan Geofisika (BMKG)

Afnimar Afnimar

Institut Teknologi Bandung (ITB)

Indra Gunawan

Badan Meteorologi, Klimatologi, dan Geofisika (BMKG)
Keywords
Stress drop, Spektrum Waveform, Tektonik
Abstract
Sumatera merupakan daerah dengan kondisi tektonik yang rumit dimana terjadi konvergensi lempeng India terhadap lempeng Eurasia dan terdapat beberapa sesar aktif. Untuk melihat keaktifan daerah Sumatera penulis menghitung stress drop di Sumatera dan membahas bagaimana kaitanya dengan tektonik secara regional. Stress drop diperoleh dengan menganalisis spektrum displacement observasi menggunakan metode inversi nonlinier Nelder Mead Simplex. Dari penelitian ini didapatkan bahwa stress drop pada daerah crustal segment Siulak menghasilkan nilai terbesar yaitu 39.26 Mpa dikarenakan daerah tersebut memiliki slip rate yang kecil jika dibandingkan dengan segment lainnya di Sumatera. Zona Ninety East Ridge menghasilkan nilai stress drop yang kecil 2.6 - 4.3 Mpa dikarenakan daerah ini merupakan daerah rekahan serta patahan. Daerah accretional wedge menghasilkan nilai stress drop tinggi 20.65 Mpa, merupakan lapisan sedimen tebal sehingga mampu menahan stress. Zona Forearc basin menghasilkan nilai stress drop kecil 0.49 Mpa karena merupakan lapisan sedimen yang mudah mengalami deformasi. Stress drop di Sumatera dipengaruhi oleh tipe tektonik, material batuan, serta slip rate masing-masing region di Sumatera.
References
Allmann, B., and Shearer, P. (2007) : Spatial and temporal stress drop variations in small earthquakes near
Parkeld, California, J. Geophys. Res., 112, B04305, doi:10.1029/2006JB004395.
Allmann, B., and Shearer, P. (2009): Global variations of stress drop for moderate to large earthquakes, J. Geophys. Res., VOL. 114, B01310, doi:10.1029/2008JB005821, 2009.
Bock (2003): Crustal Motion In Indonesia From Global Positioning System Measurements, Journal Of Geophysical Research, Vol. 108, No. B8, 2367, Doi:10.1029/2001jb000324, 2003.
Brune, J. N. (1970): Tectonic Stress and The Spectra of Seismik Shear Waves From Earthquake, J.Geophys. Res., 76, 5002.
Darman dan Sidi (2000): Review of the paleozoic Stratigraphy of the Langkawi Islands, Malaysia, Indonesian Journal Of the Sedimentary Geology, ISBN 0853-9413.
Grandis, H. (2008): Pemodelan Inversi Geosika, Badan Meteorologi dan Geofisika. Jakarta.
Hall, R. and Wilson, M. E. J. (2000): Neogene suture in eastern Indonesia. Journal of Asian Earth Sciences, 18,781-802.
Hamilton, W. (1979): Tectonics of the Indonesian Region, U.S. Geological Survey Professional Paper, 1078.
Krishna et all., (2012): Tectonics of the Ninetyeast Ridge derived from spreading records in adjacent oceanic basins and age constraints of the ridge. J. Geophys Res VOL. 117, B04101, doi:10.1029/2011JB008805, 2012.
Lay and Wallace, T.C. (1995): Modern Seismology, Academic Press, San Diego. Madariaga, R. (1976): Dynamics of An Expanding Circular Fault. Bull. Seis. Soc.Am., 66, 639-666.
McCaffrey, R. (2009): The Tectonic Framework of the Sumatran Subduction Zone, Earth and Environmental Sciences, Rensselaer Polytechnic Institute, Troy, New York.
Natawidjaja. D.H. and Triyoso. W. (2007): The Sumatran Fault Zone From Source To Hazard, J. Earth-
quake and Tsunami 2007.01:21-47.
Sativa, O (2013): Estimasi Site Effect Dari Data Accelerogram Borehole Dan Accelerogram Permukaan, Tugas Akhir Strata Satu Program Studi Teknik Geosika, Fakultas Teknik Pertambangan dan Perminyakan, Institut Teknologi Bandung.
Savage, J. C. (1972): Relation of Corner Frequency to Fault Dimension. J.geophys.Res., 77, 3788-3795.
Shearer, P. (2009): Introduction to Seismology 2nd Edition, Cambridge University Press, 268-271.
Shearer, P.M. (1999). Introduction to seismology. Cambridge University Press, United Kingdom.
Tim Revisi Peta Gempa Indonesia, 2010. Ringkasan Hasil Studi Tim Revisi Peta Gempa Indonesia 2010,Bandung 1 Juli 2010, Laporan Studi.
Van Bemmelen, R. W. (1949). The geology of Indonesia. Vol. IA. Government Printing Oce, Martinus Nijhof, The
Netherlands.
Walpersdorf, A., Vigny, C., Subarya, C. dan Manurung, P. (1998): Monitoring of the Palu-Koro Fault (Sulawesi) by
GPS. Geophysical Research Letters. American Geophysical Union.
www.isc.ac.uk. Diunduh tanggal 30 Januari 2016.
http://earthquake.usgs.gov/learn/glossary/?term=stress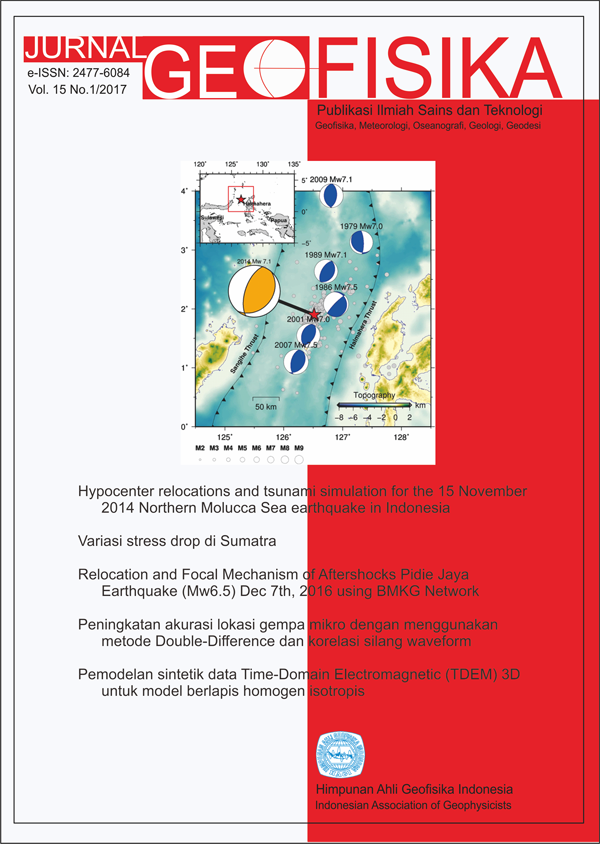 This work is licensed under a Creative Commons Attribution 4.0 International License.
The copyright of all articles belongs to the authors. All other copyrights is held by the Journal