JURNAL GEOFISIKA
Welcome to the online submission and editorial system for the Jurnal Geofisika. Jurnal Geofisika is a scientific journal published by Himpunan Ahli Geofisika Indonesia (HAGI). This journal is referenced, each paper was assessed and evaluated by editors and reviewers who are experts in the relevant fields and come from education institutions and industry, both from within and outside the country. The published article covers all science and technology including Geophysics, Meteorology, Oceanography, Geology and Geodesy.

Important Announcement
Jurnal Geofisika is moving to an enhanced online submission and peer review system named Open Journal System (OJS). From Tuesday, March 7, 2017 NEW submissions must be uploaded to our new online system, OJS.
To submit a NEW paper, please register/log in and follow the instructions to register and submit your paper there. Please contact support with any queries.
This journal is concerned with original research, new developments, site measurements and case studies in pure and applied geophysics. It provides a national and international forum for the publication of high quality papers on the subject of geophysics and the application of geophysics principles and techniques at various scales from laboratory, reservoir to regional and global scale. These projects include geophysics, meteorology, oceanography, geology and geodesy. Papers are welcomed on all relevant topics and especially on theoretical developments, analytical methods, numerical methods, rock testing, site investigation, design, back analysis, and case studies.
Current Issue
Vol 16 No 3 (2018): OJS Jurnal Geofisika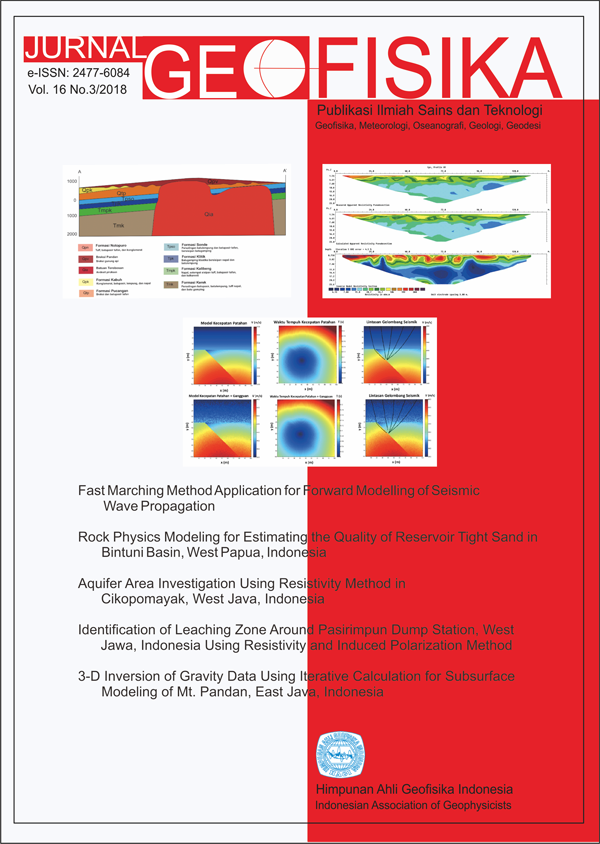 Para pembaca yang terhormat,
Tim editor Jurnal Geofisika (JGF) mamanjatkan puji dan syukur pada Tuhan Yang Maha Kuasa atas terbitnya JGF Vol. 16 No.3 Tahun 2018. Pada edisi kali ini, JGF menyajikan makalah-makalah ilmiah yang telah melewati proses penilaian dan pengeditan sehingga terpilih lima makalah dengan bidang kajian dan  metodologi yang beragam. Lima makalah yang dimuat menampilkan kajian yang menarik untuk dibaca dan dicermati.
Kelima makalah tersebut adalah :
Fast Marching Method Aplication for Forward Modelling of Seismic Wave Propagation yang ditulis oleh Wahyu Srigutomo dan G.H. Muslim
Rock Physics Modelling for Estimating the Quality of Tight Sand Reservoir in Bintuni Basin, West Papua, Indonesia yang ditulis oleh D. S. Ambarsari, dan Sonny Winardhi
Aquifer Area Investigation Using Resistivity Method in Cikopomayak, West Java, Indonesia yang ditulis oleh J.W. Sihotang, D.B.T. Munte, R. Osvaldus, N. Priono dan F. Mohamad
Identication of Leaching Zone Around Pasirimpun Dump Station, West Java, Indonesia Using Resistivity and Induced Polarization Method yang ditulis oleh A.A. Nugraha, A.A. Ilmanto, J. Jonathan, R.M. Rashad dan S. Maghrifa
3-D Inversion of Gravity Data Using Iterative Calculation for Subsurface Modeling of Mt. Pandan, East Java, Indonesia yang ditulis oleh W. Aji, E.J. Wahyudi, D. Santoso D. dan W.G.A. Kadir
Terakhir Tim Editor berharap kelima makalah yang dimuat pada JGF edisi kali ini dapat memperkaya khasanah keilmuan geofisika di Indonesia dan bermanfaat untuk menambah wawasan baru bagi para pembaca.
Tim Editor
Dr. Andri D. Nugraha
Dr. David P. Sahara
Dr. Zulfakriza
View All Issues